Albuquerque Doggie Spa Instruction Program
Equipment Needed
1 Andis two-speed clipper
1 Wahl 1/4" battery-operated clipper
1 (except where indicated otherwise) each blade (Oster or Andis) #30, #15, #10 (2), #9, #7, #7F, #5, #5F, #4, #4F, #3, #3F, 5/8"(2)
1 mat cutter
1 medium shedding blade
1 two-row undercoat rake
1 Grayhound-type comb
1 Poodle comb
1 flea comb
1 rattail comb
1 undercoat comb
2 slicker-type brushes
1 red-handle slicker brush
1 soft finish brush
1 rubber curry brush
1 small & 1 large toenail cutter
1 scissor
1 thinning shears
1 ball tipped curved scissor
1 set clip on combs set
2 hemostats 1 curved 1 straight
1 can blade cool
1 2 oz. container Kwic Stop
1 Smock
1 set of muzzles
1 Sam Kohl 3rd Edition instruction book
1 International Reference Poodle clipping and grooming book
1 Cat Grooming book
1 AKC Breeds book
1 set of ear plugs
1 face mask
1 drimel
You will need to later buy More Cool blade and Kwick Stop as needed.  These items can be purchased locally
Extra blades:  run from $19 to $42 each, depending on size.
Other expenses will be getting your blades sharpened as they grow dull or come in new dull. This runs about $4.50 for each blade and scissors run about $16.00.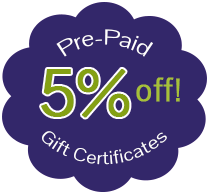 Take advantage of our Pre-Paid Gift certificates that give you an extra 5% discount on any purchase!
Gift certificates are only available
at our location, so come on in!
Specials