Our Services
Pet grooming prices vary because of size, weight, breed, condition of and type of hair. Without knowing these factors I we can't give you a standard price on your pet. Please call 256-8388 for the estimated price.
We offer quality grooming to the public at a low price.
We will groom your pet but not in a way that is abusive or unhealthy.
We specialize in older pets taking the extra time they need so they need not be stressed.
All our grooms include:
Scooping of the pads – this keeps the dirt and mats out of your dog's feet and off of your floors.
Cutting of the nails – this relieves the pressure on your pet's toes and joints.
Sanitary cut – well we all know what this is for.
Cleaning and/or plucking of the ears – this helps prevent ear mites and yeast infections.
Emptying of the anal gland – this prevents back up of matter.
Two shampoos (at least) , cream rinse and leave in conditioner.
Clipper cut with scissor finish. If your dog is matted and you allow us to cut them down we will for only a small charge but if you insist to have the pet brushed out (which hurts them) we will charge you more. Rember matts do not brush out they just tear out.
Scent and bows or bandannas at no extra charge.
We offer a 5% discount on Wednesdays and Thursdays to our Senior Citizens and a 5% discount for your pet if your return to be groomed within six weeks of your last groom. We offer a referral discount of 5% off your next groom for every new customer you refer to us.
In addition we offer our Top Paw Package where we file the pet's nails, teeth brushing, breath freshener, coat condition, cleaning of their collars and filing of the nails as well as cutting them. Your pet also will receive a massage with the bath.
We have a Pretty Paws pedicure where we polish your pets nails for $5.00 You may bring your nail polish or use ours.
Our Perfect Paws pedicure offers nail filing/cutting, nail oil and dremel for 18.50 (dogs over 50)  14.50 for dogs 30# to 50# and 9.50 (dogs under 30#). For just $3.00 more we will empty your pets' anal gland and pluck and clean their ears.
We offer temporary hair colors for Mohawks, ear tips, tales, etc. for a additional charge
* You can combine up to two (2) discounts per visit.
* We require proof of your pets Rabies Vaccination, not the tag but the paperwork the Vet gives you with the tag # and expiration date
* Most groomers add on hidden prices. Our prices include the above services for a quality groom. All prices are discussed before you drop off your pet, but if we do find something that will need to up-charge your cost we will call you first before we proceed.
A clean, groomed pet is a happy pet and so is the owner!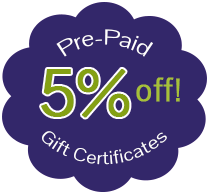 Take advantage of our Pre-Paid Gift certificates that give you an extra 5% discount on any purchase!
Gift certificates are only available
at our location, so come on in!
Specials